Custom Printed Acrylic Signs – Just Click Printing Company, Poole
Beautifully rich photorealistic images that are both scratch and shatter resistant make for stunning high quality, durable displays that are guaranteed to make a big impression.
Clear Acrylic Displays printed in full colour with UV inks. Suitable for indoor and outdoor use. Just Click Printing Company, Poole
Acrylic panels can be back-lit for extra visual impact using LED and tube lighting.
Material Appearance: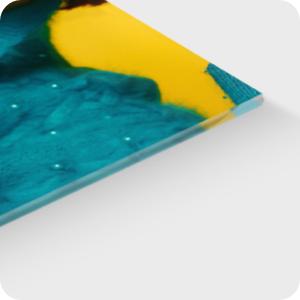 Clear – Mostly used as a wall panel
Block out – A foil is applied on the back to make sure no light is coming through
Opal – White as milk, applied in light boxes
Printing options:
Light-transmitting print – Only colour print, no white background
The print will be light-transmitting, because there is no white ink used with this technique. The light colours of your print will transmit more light than the dark colours in your print.
Non light-transmitting print – Colour print on top of white under printed background
The print won't be light-transmitting, because there are two extra white ink layers applied under the colour print with this technique.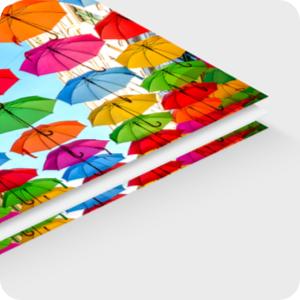 Printing on the back – Two layers of colour print, with a white layer in between ( Please supply images in reverse )
The printer applies two layers of full colour ink with a layer of white in in between. You can see colour from both sides.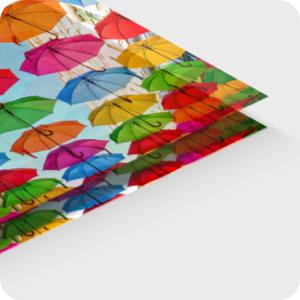 Double print – 2 layers full colour
Your design is printed twice to really get the most out of all the colours.
Mounting Options:
Hanging plate 10 x 10 cm – max. 6 kg – Self-adhesive by strong 3M™ tape
Hanging plate 10 x 20 cm – max. 12 kg – Self-adhesive by strong 3M™ tape
Hanging plate 4 x 4 cm – max.1 kg – Self-adhesive by strong 3M™ tape
Hanging plate 7 x 7 cm – max. 3 kg – Self-adhesive by strong 3M™ tape
Indoor Stainless Steel Spacers – Set of 4 pieces
5 mm spacing between the wall and the panel
Outdoor Stainless Steel Spacers – Set of 4 pieces
5 mm spacing between the wall and the panel
No mounting